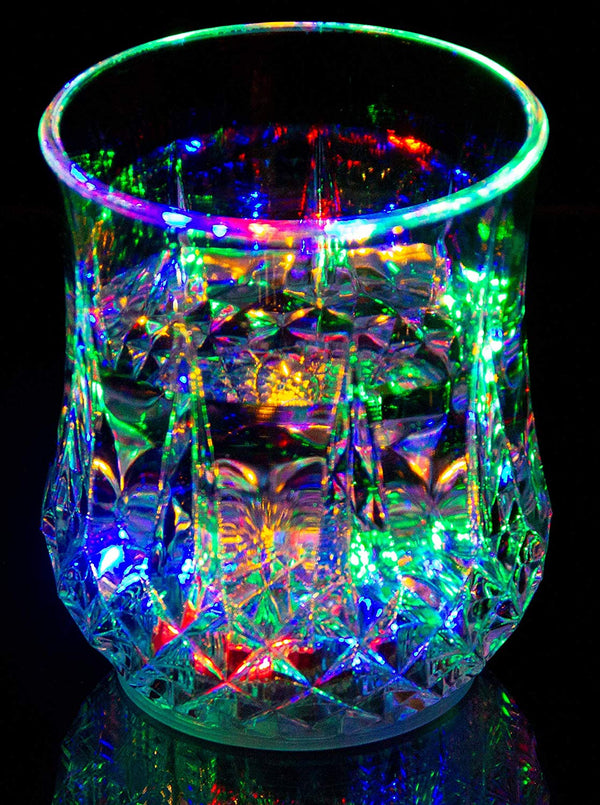 💥 AUTOMATIC ON OFF - Just add liquid to activate the flashing multicolored LEDs in the base of the cup. The lights turn off when the cups are empty. When activated, the LEDs flicker, change color and glow in a beautiful changing rhythm that is sure to delight.

💥 PERFECT FOR PARTIES AND SPECIAL OCCASIONS - Best drinkware party favors or decoration for Christmas, New Years Eve, birthdays, weddings, shots, bars, night clubs or discos.

💥 ELEGANT CUT GLASS DESIGN - The sparkly pineapple crystal style design show off the blinking LEDs for a cool Lowball glass your guests and friends will remember and covet.

💥 DURABLE ACRYLIC PLASTIC CONSTRUCTION - Two long-lasting 2025 coin lithium batteries are included and installed in the bottom of the cup. The battery compartment is sealed with a twist on liquid resistant cap.

💥 SATISFACTION GUARANTEED - We KNOW you'll love these premium LED tumblers, but if you don't, we'll take them back - no questions asked.
The perfect party glass to light up every occasion!

Adults and kids love these light up plastic tumblers making them the perfect gift or stand out party favor! Multicolor LED bulbs in the base of these beautiful cut glass style cups come to life whenever liquid is in the glass. The brilliant LEDs glow, flicker and change with water, alcohol, cola, coffee, tea, wine, whiskey, beer, champagne or juice. Make your party beverage come to life with these durable glowing tumblers. 

Two CR2025 coin batteries are included with each cup and come completely installed. All you have to do to activate the flashing LEDs is add liquid. The LEDs automatically turn off when the cup is empty. These inexpensive batteries are long-lasting but are also very easy to change. Simply turn the cup over and remove the battery compartment cover using a coin or screwdriver and a small counter clockwise twist. The battery compartment on the bottom of each glass is water resistant but these tumblers are not dishwasher safe. To prolong the life of your purchase simply hand wash after use.

** Not recommended for children under 3 years of age due to small parts (choking hazard).

Returns Policy
We try hard to get your order right, but sometimes mistakes do happen.  If you need to return your product for any reason, please contact customer service first.   Our helpful customer service representatives are available Monday thru Friday from 9 am to 6 pm CST by phone, live chat or email..
Shipping
Your order typically ships the next business day.  We'll email you when your order ships and provide you with tracking information.
If you live in the USA you can expect your order to arrive within 7-10 business days - usually sooner.
International Orders are shipped directly from our warehouse via standard US Mail and may take 2-3 weeks to arrive.